Reese's Bat Mitzvah Party at The Fillmore Philadelphia
After a meaningful bat mitzvah service at Rodeph Shalom, guests descended upon the popular hot spot The Fillmore Philadelphia for a chic bat mitzvah party with great music, delicious food, and engaging entertainment. Working closely with Reese and her mother, Creative Director, Brian Kappra, and Executive Producer, Robert Canada, created an unforgettable celebration Reese could share with her friends and family.
Party Inspiration
A lover of all things purple and blue, and with a name like "Reese" you can imagine what inspired us in the party design. But from the beginning, it was clear a "theme" wasn't required. Instead, Reese's mom envisioned a cool, chic environment that glowed with vibrancy, energy, and light. Here's a peek inside Reese's playful party at The Fillmore with photos courtesy of AMC Photography Studios.
On the Marquee
Setting the tone from the getgo, we created a custom-designed graphic that was displayed on the existing theater entrance marquee at The Fillmore. One that clearly announced this was Reese's special day to party hard! And, as you will see in many of the event photos, our graphics department didn't stop there. From tv screens to chalkboards, cocktail napkins, hand towels, signage, food packaging, light projections, party giveaways, and even the dance floor, Reese's party was branded with versions of her monogram. As well as fun logos and slogans that tied back in style and font to the overall design concept. Believe it or not, all that personal branding started on a napkin! Graphics were used throughout the space not as an afterthought, but as a significant part of the event design itself. The dominant color of purple was countered with gold and blues for added punch!
Layers of Design
Creating a chic, party environment that both kids and adults would enjoy meant layering the design details in true Evantine fashion. Meaning, no detail was overlooked! Knowing the event lighting would set the tone for the saturated colors the client desired, Brian used mostly modern, white, silver, lucite, and glass for the foundational elements. The furniture, backdrops, tables, seating, and surfaces would reflect light or allow light to glow from within. Yet, all of the shapes and forms would be feminine in nature to balance the edginess of the urban setting.
Lighting Makes the Room
Up-lighting and pin-spots in shades of purple and blue were installed throughout the event, in varying degrees of intensity and tone for impact. Special lighting for the entrance area of adult cocktails had a beautifully-textured undulating light which we re-used for the candy station at the end of the evening. No light or space was wasted! With such high, open ceilings, it was crucial to bring the eye up where needed with sexy lighting effects, textures, patterns, and washes of light that focused down on decorative elements, food stations, bars, and, of course, the activities happening on the dance floor.
Florals & Decorative Accessories
Architectural designs of purple, yellow, and white flowers in purple-tinted water, along with floating candles, decorated tabletops, bars, and focal point displays. Additional decorative accessories and strategically-placed furniture pieces in purple, blue, gold, and white were added to the design through sparkly table linens, side tables, fabric pillows, vases, organic materials, wall murals, and candles. And, as we know Reese and her friends LOVE candy, we used favorite candies in long decorative displays for a clever twist. Everything can be used as decor! Even candy!
On the Dancefloor
At the heart of the event space was the dancefloor. Which meant we needed to delineate it clearly in the big, open nightclub. Floorplan design was important to set out the whole event, and establishing where each element would be placed around the dancefloor. Then, we created a full graphic featuring elements from Reese's invitation and the words "Party Hard!" in gold script.  This graphic was applied directly to the venue floor and immediately set the mood with INTENTION!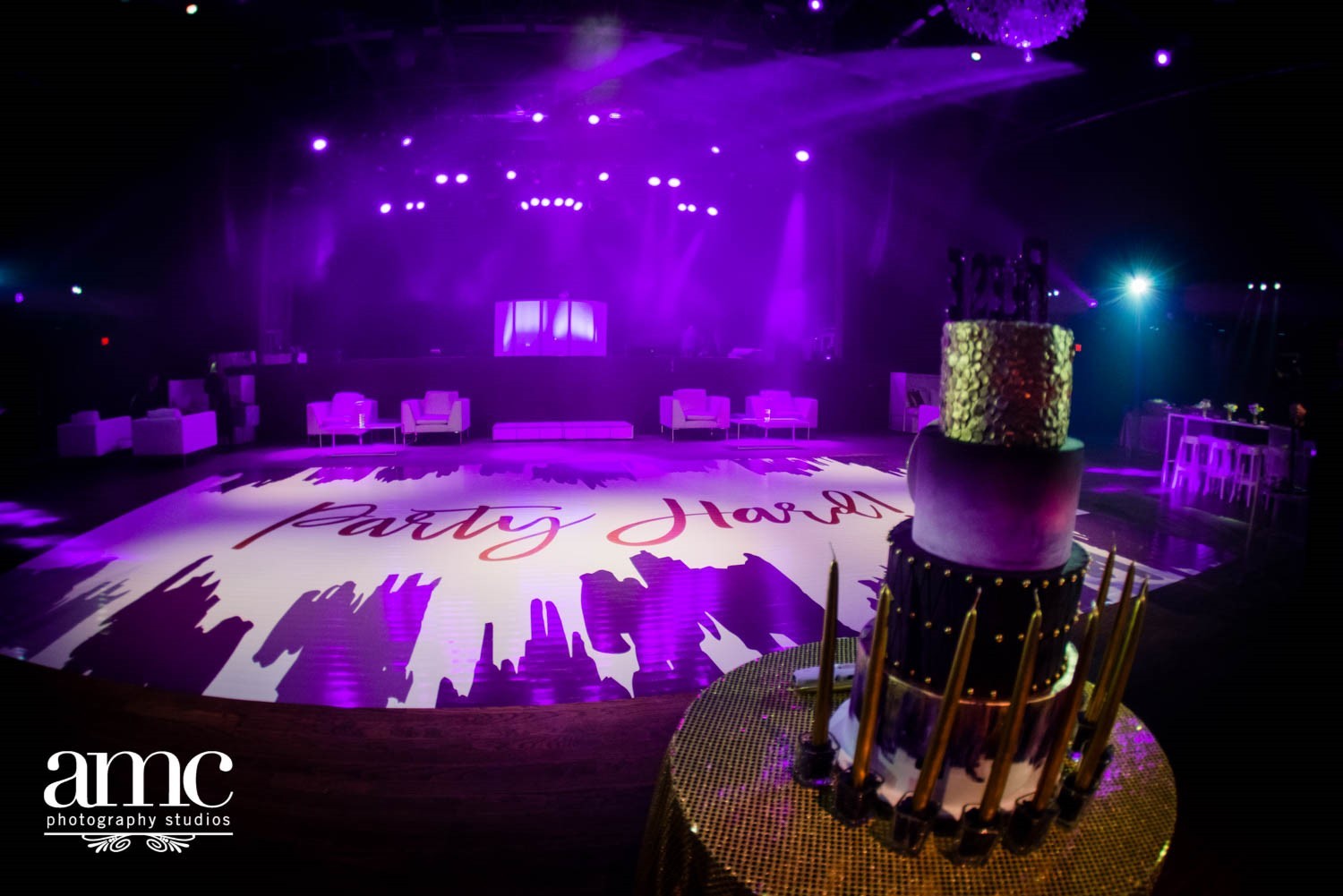 Sweetness of Life
Just off the edge of the dancefloor sat an amazing mitzvah cake! We displayed a stunning purple and gold specialty cake on a table covered in gold glitzy linens. Rather than on the cake, thirteen purple candles were set out around the cake for the candle-lighting ceremony. Not only did it taste delicious, but the cake was a fantastic backdrop for the sentimental lighting, toasts, and speeches.
Dance Floor Fun
A mitzvah just isn't a mitzvah without a lively hora! And Reese's guests knew exactly what to do with the two modern metal chairs we supplied near the dancefloor! From that moment on, and a little before to be honest, the dancing never stopped! Hot Hot Hot kept the dancefloor packed and playful until the last moment of the party! And, a thoughtful touch was offered to the stiletto-wearing dancers. FLIP FLOPS! Containers of stylish black flip flops were held in vessels just off the dancefloor.
Towering Flowering Branches
As you can see in the photos, we used large arrangements of flowering branches or gilded bamboo for eye-catching focal displays throughout the party venue. Hundreds of our metallic gold votive spheres were hung from the branches for added ambient light.
Sculptural Centerpieces
Guest seating wasn't assigned and guests could perch wherever the liked throughout the party space. We did mark certain community tables for the kids and used candy arrangements specifically for them. Adult tables were high and low, with contemporary groupings of lounge furniture, dinner tables, high tops, and fully-enclosed banquettes offered. We placed "reserved" signs on tables where special family members would be seated.
Candy Bar & Fun Favors
Of course, no party is complete without a sweet send off! Reese and her mom loved the idea of a giant candy bar covered in Reese's favorite treats. A candy station NEVER gets old and NEVER fails to make kids of every age HAPPY! Additionally, young guests were given a cool, sweatshirt drawstring backpack customized with Reese's logo and eco-friendly monogrammed S'well water bottles. There were also slogan and monogrammed t-shirts, socks, and hats offered from the dancefloor throughout the night.
Individual Cakes To Go
Knowing how many guests are too FULL of delicious food served all night — by Garces Events — to enjoy a slice of cake, individual celebration cakes were offered to the guests as they departed the party. A sweet, thoughtful ending to a fantastic party!
Mazel Tov!
Congratulations to Reese and her family on a spectacular milestone celebration!
Love, Team Evantine