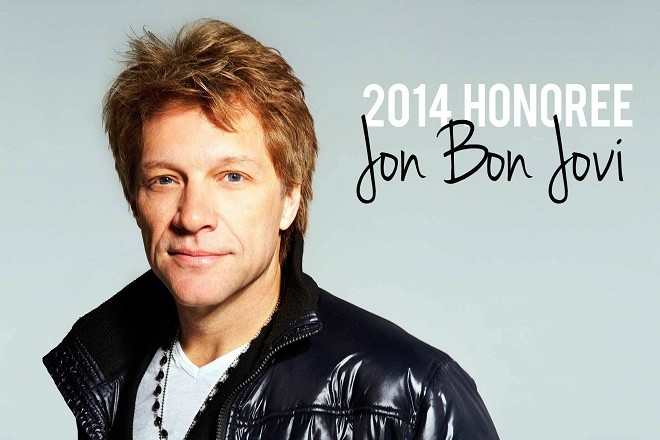 Over the years, Evantine Design has had the pleasure and honor of designing the event decor for many of the prestigious Marian Anderson Awards Galas. Tonight's grand celebration honoring American singer-songwriter, record producer, philanthropist, and actor JON BON JOVI, is sure to be as incredible as the others. If not more so. Not only for the amazing show that will assuredly take place on stage in the magnificent Kimmel Center for the Performing Arts. But also, and more importantly, for the well-deserved recognition the event will highlight of the work Bon Jovi has done, and continues to do, to fight hunger and homelessness through Project HOME and the Jon Bon Jovi Soul Foundation. Many of his philanthropic projects focus right here, in and around Philadelphia, which makes this year's dedication even more precious as our local community has been touched so personally by this humble humanitarian's passion for helping others. We particularly admire his community restaurant JBJ Soul Kitchen in Red Bank, New Jersey as HOPE really is delicious.
Tonight's 2014 Annual Award Gala Dinner and Concert program guarantees a rockin' night to remember with comedienne Wanda Sykes as host, spoken tributes by Senator Cory Booker and Project HOME Executive Director Sister Mary Scullion, as well as performances by Grammy Award-winning Estelle, The All American Rejects, Jon Batiste and Stay Human.
Reaching out to others less fortunate really is a simple and straight-forward concept. One we have always taken to heart here at Evantine Design as that's the principle Creative Director, Brian Kappra, feels strongly about himself and strives to honor every day. In other words, giving back isn't complicated. It is black and white with sunshine rippling through it in hopeful, caring ways. Reflecting on that clarity of purpose, in our own simple way, for tonight's gala, Evantine Design will be creating a comfortable black and white environment with pops of bright happy yellow, magenta and purple. It is a true honor to participate once again in this amazing annual event.
We encourage you to read more about the esteemed Marian Anderson Award below as it really is a tremendous gift to the City of Brotherly Love, as well as the greater community around us.
The Marian Anderson Award, sponsored by Wells Fargo, honors artists whose leadership on behalf of a humanitarian cause(s) or issue(s) benefits society. Previous recipients include Berry Gordy (2013), James Earl Jones (2012), Mia Farrow (2011), Bill Cosby (2010), Maya Angelou and Norman Lear (2008), Richard Gere (2007), Sidney Poitier (2006), Ruby Dee and Ossie Davis (2005), Oprah Winfrey (2003), Danny Glover (2002), Quincy Jones (2001), Elizabeth Taylor (2000), Gregory Peck (1999), and Harry Belafonte (1998). No award was given in 2004 or 2009. Created in 1998, the Award is named for the great Philadelphian and American singer Marian Anderson, and is produced and administered under the direction of J. Patrick Moran. Since its inception, the Award program has provided more than $500,000 in free public programs, residencies, commissions, and grants to young artists.
Marian Anderson, the most celebrated contralto of the 20th century, was born in Philadelphia on February 27, 1897, to an African-American family of modest means. Recognized for her extraordinary musical talent, as well as her generosity and commitment to others, Ms. Anderson was a master of repertoire across operatic, recital, and American traditional genres. Throughout her musical career, she played an incalculably vital role in the acceptance of African-American musicians in classical musical and in other previously segregated performing arts genre. In 1957, Ms. Anderson was appointed by the U.S. Department of State to serve as a Special Envoy to the Far East, and the following year President Dwight D. Eisenhower named her to the post of delegate to the General Assembly of the United Nations. She sang at President John F. Kennedy's inauguration in 1961; in 1963 President Lyndon B. Johnson bestowed the Presidential Medal of Freedom upon her. On her 75th birthday, in 1974, the U.S. Congress passed a resolution ordering a special gold medal minted in her honor. On April 8, 1993, Marian Anderson died at the age of 96 in Portland, Oregon. Her legacy continues to shine.